https://www.montpellier-tourisme.fr/geolocation.php
http://www.montpellier-france.com/geolocation/redirect
French guided tour special for family: "historical center for children"
Location
: Gare/Centre ville/Corum
30, allée Jean de Lattre de Tassigny, 34000 MONTPELLIER (
show map
)
Category:
Guided tour, Events
Date: Wednesday 2 aug 2017
- Wednesday 16 Aug 2017
French guided tour, tracking game for families.
A special visit for children and their parents to discover Montpellier!

Children (7 to 11 years old)

Rate: €16 for 1or 2 children and 1 adult.
Duration: 2 hours



INFORMATIONs
- Our visit start at the Tourist Office of Montpellier - Esplanade Charles-de-Gaulle. Please note that you will have to present your booking confirmation before the beginning of the guided tour.
- Package for 1or 2 children and 1 adult, for 3 or 4 children, you will have to book for a second adult.
- Refund (with your booking reference) at the latest 24hours before the departure of the visit.
- Cancellation rights reserved (minimum 8 persons).
- Internet sales are open until 1 hour before the guided tour, for a booking at the last minute call on +33 4 67 60 60 60.
- Tour limited to 30 people.
Distance: 692 meters
Charming 16th house ideally located in the heart of the old city. Sublime comfort can be found in this tastefully restored 16th century residence, featuring peaceful rooms and a spacious terrace.
Distance: 694 meters
Your Apart'hotel is in the heart of Antigone, the urban district renovated by renown architect Ricardo Bofill. It is located opposite the town hall, The Polygon, and is near Polygone shopping centre, Corum and an Olympic-size swimming pool.
Distance: 936 meters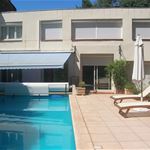 Cemaste Villa welcome you in quiet and peacefull environment. Two bedrooms in nice traditional house, located in the heart of Montpellier. Take advantage of the summer swimming-pool and garden. Next to railway station, tramway and shops.