https://www.montpellier-tourisme.fr/geolocation.php
https://www.montpellier-france.com/geolocation/redirect
French guided tour - Montpellier, a Middle Age town
30, allée Jean de Lattre de Tassigny, 34000 MONTPELLIER (
show map
)
Date: Thursday 8 mar 2018
- Thursday 5 Apr 2018
French guided tour to discover the heart of the old city.
INFORMATION
- Our visits start at the Corum Tramway Station, Montpellier. Appointment: 10 minutes before departure
Please note that you will have to present your booking confirmation before the beginning of the guided tour.
- Rate: free for children under 18 years with a parent, professional guides, people who bought Montpellier City Card.
- Reduced rate: students, persons over 65 years, unemployed and disabled card holders. Warning!: for reduced rate you have to show your card.
- Refund (with your booking reference) at the latest 24hours before the departure of the visit.
- Internet sales are open until 1 hour before the guided tour, for a booking at the last minute call on +33 4 67 60 60 60. Payment required for reservation.
- Cancellation rights reserved (minimum 8 persons).
- Tour limited to 30 people.
Distance: 936 meters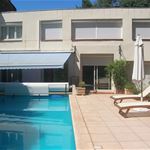 Cemaste Villa welcome you in quiet and peacefull environment. Two bedrooms in nice traditional house, located in the heart of Montpellier. Take advantage of the summer swimming-pool and garden. Next to railway station, tramway and shops.
Distance: 694 meters
Your Apart'hotel is in the heart of Antigone, the urban district renovated by renown architect Ricardo Bofill. It is located opposite the town hall, The Polygon, and is near Polygone shopping centre, Corum and an Olympic-size swimming pool.
Distance: 361 meters
City center hotel, 100m from railway station St-Roch, 35 renoved rooms,air conditioned, opened 24 hours, free wifi, double windows, canal satellite TV, possibility housing groups. A computer is available at the reception desk to check your mail and internet.