https://www.montpellier-tourisme.fr/geolocation.php
http://www.montpellier-france.com/geolocation/redirect
Bon cadeau Domaine du Haut-Lirou
Domaine Haut-Lirou (direction le Triadou), 34270 SAINT JEAN DE CUCULLES (
show map
)
Date: Monday 18 dec 2017
- Monday 31 Dec 2018
Offrez un moment unique et inoubliable ! Nous allons chouchouter votre épouse, vos amis, vos enfants... On s'occupe de tout... Si c'est pour un événement particulier, faites nous le savoir, on concocte des surprises...
Une idée cadeau originale pour une aventure de la vigne au verre !

Découvrez les idées cadeaux du Domaine du Haut-Lirou :

- WINE TOUR :
* Tour commenté en 4 x 4 dans les vignes : découverte de l'AOP Languedoc Pic Saint-Loup : de sa naissance à aujourd'hui, explications sur la faune, flore, géologie et terroir, découverte du panorama régional, initiation à la culture de la vigne et aux différents cépages du domaine, petite balade à pieds dans nos vignes en terrasse avec une surprise !
* Visite privée et commentée des installations du domaine : faites le tour de la propriété... des caves de vinification au chai souterrain de vieillissement
* Dégustation des vins du domaine : profitez d'une initiation à la dégustation et devenez un expert du vin !

- ATELIERS ludiques pour apprendre ou approfondir vos connaissances œnologiques :
* Dégustation Wine & Cheese : 1h30, visite du domaine, dégustation de 3 vins & fromages.
* Dégustation VIP à la barrique : 2h, visite des installations du domaine, dégustation de la gamme des vins.
* Expérience Vins & Chocolats: 1h, visite commentée du site, dégustation de 3 vins & chocolats.


INFORMATION
- Nombre minimum de participants excursion/wine tour : 2 personnes ; atelier : 4 personnes.
- Lieu de rendez-vous au Domaine ou en option pour le wine-tour au départ de Montpellier, "Place des Martyrs de la Résistance", devant la préfecture.
- Le bon cadeau vous sera demandé le jour de l'excursion.
- Non annulable, non remboursable.
- Excursions non recommandées pour les enfants de moins de 10 ans. Animaux non acceptés.
- Le bon cadeau est valable 1 an à compter de la date d'achat. Il vous sera envoyer par e-mail ou par courrier. Le(s) bénéficiaire(s) du bon n'auront qu'à choisir la date et le créneau horaire de son choix.
Distance: 10 km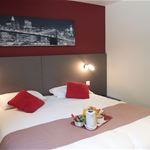 Located in a relaxed environment on the outskirts of Montpellier, the friendly Best Hôtel Euromédecine offers well-equipped, air-conditioned rooms with free Wi-Fi internet access.
Distance: 1.8 km
A stay at the "l'Ostal du Pic Saint Loup" give you the chance to be in a small old village, close to Montpellier and the Herault valley, in the heart of the vineyards of Coteaux du Languedoc.
Distance: 10.1 km
Located in northern Montpellier, in the heart of the Parc Euromédicine, the hotel is just minutes from the city centre, business centres and shopping districts.