https://www.montpellier-tourisme.fr/geolocation.php
http://www.montpellier-france.com/geolocation/redirect
French Guided Tour : Every Shop its History
30 allée Jean de Lattre de Tassigny, 34000 Montpellier (
show map
)
Category:
Events, Guided tour
Date: Wednesday 2 aug 2017
- Tuesday 22 Aug 2017
French Guided Tour
A stroll of workshop in workshop and treasures in treasures to discover the other history of the from Montpellier businesses
INFORMATION
- Our visits start at the Tourist Office of Montpellier - Outside beside Esplanade Charles-de-Gaulle. Appointment: 10 minutes before departure. Please note that you will have to present your booking confirmation before the beginning of the guided tour.
- Rate: free for children under 18 years with parent, professional guides and people who have bought the Montpellier City Card.
- Reduced rate: students, persons over 65 years, unemployed and disabled card holders. Warning!: for reduced rate you have to show your card.
- Refund (with your booking reference) at the latest 24hours before the departure of the visit.
- Internet sales are open until 1 hour before the guided tour, for a booking at the last minute call on +33 4 67 60 60 60. Payment required for reservation.
- Cancellation rights reserved (minimum 8 persons).
Distance: 695 meters
Charming 16th house ideally located in the heart of the old city. Sublime comfort can be found in this tastefully restored 16th century residence, featuring peaceful rooms and a spacious terrace.
Distance: 631 meters
Our hotel is a quiet and family establishment, located 5 minutes from the historical heart, the Place de la Comedie and the railway station, with its many restaurants and cinemas.
Distance: 954 meters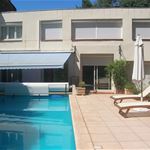 Cemaste Villa welcome you in quiet and peacefull environment. Two bedrooms in nice traditional house, located in the heart of Montpellier. Take advantage of the summer swimming-pool and garden. Next to railway station, tramway and shops.