https://www.montpellier-tourisme.fr/geolocation.php
http://www.montpellier-france.com/geolocation/redirect
Père Noël dans les vignes du Domaine Haut-Lirou
Domaine Haut-Lirou (direction Le raidou, 34270 SAINT JEAN DE CUCULLES (
show map
)
Date: Wednesday 20 dec 2017
- Saturday 23 Dec 2017
Venez voir le Père Noël en Pic Saint-Loup, dans les vignes, au Domaine du Haut-Lirou !
Photo offerte, goûter, dégustation pour les parents... un moment à vivre en famille !
Réservez vite les 17, 20 ou 23 décembre 2017.
Les enfants pourront visiter la cabane du Père Noël, le voir arriver dans la cour du domaine sur son tracteur, prendre une photo Polaroid avec lui et repartir avec et profiter d'un goûter dans le relais de chasse du domaine, avec un feu de cheminé en fond...
Unique : la photo souvenir du père Noël dans les vignes !
L'ambiance sera gaie et musicale...

Pendant ce temps, les parents pourront tranquillement visiter, déguster et participer à l'un des ateliers de dégustation proposé.


INFORMATION:
- Horaire: 10h30 - 14h30 - 16h30
- Lieu de rendez-vous : au Domaine de Haut-Lirou à Saint-Jean de Cuculles
- Billet non annulable, non remboursable.
Distance: 9.5 km
Located in northern Montpellier, in the heart of the Parc Euromédicine, the hotel is just minutes from the city centre, business centres and shopping districts.
Distance: 9.4 km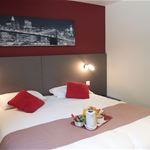 Located in a relaxed environment on the outskirts of Montpellier, the friendly Best Hôtel Euromédecine offers well-equipped, air-conditioned rooms with free Wi-Fi internet access.
Distance: 2.2 km
A stay at the "l'Ostal du Pic Saint Loup" give you the chance to be in a small old village, close to Montpellier and the Herault valley, in the heart of the vineyards of Coteaux du Languedoc.