https://www.montpellier-tourisme.fr/geolocation.php
https://www.montpellier-france.com/geolocation/redirect
Wine & Chocolate Experience
Domaine Haut-Lirou (direction le Triadou), 34270 SAINT JEAN DE CUCULLES (
show map
)
Category:
Wine tour, Events
Date: Wednesday 21 feb 2018
- Monday 31 Dec 2018
The end of the year festivities are approaching…and we are offering you a unique experience:
Wine and chocolate pairing…which wine with which chocolate? Or which chocolate with which wine?
Do you prefer dark chocolate, milk chocolate, praline or white chocolate? We are offering an original wine and chocolate pairing…
A fun and interactive workshop which will allow you to discover our Languedoc Pic Saint-Loup appellation wines and to pair them with the chocolate that works best
And of course, you will be given a guided tour of our facilities… Let yourself be tempted!

"I can resist everything except temptation." Oscar Wilde

« WINE & CHOCOLATE » Workshop:
3 AOP Languedoc Pic Saint-Loup wines paired with 3 quality chocolates.

Duration: 1 hour
Price lists: €15


INFORMATION:
- Minimum: 4 people (if there is less than 2 people, the workshop will be cancelled. You will be informed 48h before)
- Appointment: Domain of Haut-Lirou.
- Choose the day of the activity, the Domain will then contact you to set the schedule.
- Please present the voucher before the beginning of the workshop.
- Non cancellable, non refundable.
Distance: 2.2 km
A stay at the "l'Ostal du Pic Saint Loup" give you the chance to be in a small old village, close to Montpellier and the Herault valley, in the heart of the vineyards of Coteaux du Languedoc.
Distance: 9.4 km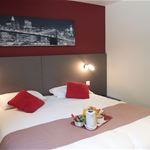 Located in a relaxed environment on the outskirts of Montpellier, the friendly Best Hôtel Euromédecine offers well-equipped, air-conditioned rooms with free Wi-Fi internet access.
Distance: 9.5 km
Located in northern Montpellier, in the heart of the Parc Euromédicine, the hotel is just minutes from the city centre, business centres and shopping districts.