https://www.montpellier-tourisme.fr/geolocation.php
http://www.montpellier-france.com/geolocation/redirect
Rendez-vous au Musée Fabre pour l'exposition "Bacon / Nauman"
Location
: Gare/Centre ville/Corum
Lieu de rendez-vous : Musée Fabre 39 boulevard Bonne Nouvelle, 34000 MONTPELLIER (
show map
)
Date: Thursday 14 sep 2017
- Sunday 29 Oct 2017
L'Association A Portée d'Arts vous propose une visite culturelle avec son guide au travers de l'exposition d'été du Musée Fabre de Montpellier Méditerranée Métropole "Face à face : Francis Bacon et Bruce Nauman".
La confrontation que propose cette exposition permet de découvrir deux générations, deux grands artistes qui partagent une conception expérimentale de l'art.
La peinture de Bacon côtoie les champs d'exploration visuels et sonores de Nauman. Une sélection d'une soixantaine d'oeuvres - tableaux, dessins, sculptures, néons, vidéos et installations explore la notion de contrainte et d'entrave tant physique que psychologique chez ces deux monstres sacrés.
Ils éprouvent également une fascination pour le corps, ses possibles déformations, transformations ou agressions et dévoilent son animalité.

Guide-conférencière : Isabelle Bellet

Choisissez votre date :
dimanche 23 juillet à 10h30
jeudi 14 septembre à 13h30
jeudi 05 octobre à 14h30
samedi 28 octobre à 15h00
dimanche 29 octobre à 10h30

Une occasion de découvrir l'exposition avec une guide de l'Association A Portée d'Arts.
2 formules au choix : tarif avec billet d'entrée pour l'exposition inclus ou tarif sans le billet d'entrée si vous disposez déjà d'un billet pour l'exposition.


INFORMATION
Billets non-annulable, non-remboursable.
Durée : 2h
Nombre minimum de participants : 10 personnes (en cas d'un nombre insuffisant de participants la visite sera annulée. Vous serez prévenu 24h avant par mail).
Un billet d'entrée pour l'exposition est obligatoire soit vous l'avez déjà soit vous le réservez dans la formule.
Lieu de rendez-vous : Musée Fabre de Montpellier Méditerranée Métropole, 39 boulevard Bonne Nouvelle, Montpellier.
Merci de vous présenter avec votre document de confirmation de réservation au départ de la visite.
Street address 1
Lieu de rendez-vous : Musée Fabre
Postal code
34000
City (address)
MONTPELLIER
Phone number (booking)
33 615312109
E-mail (Organizer)
aporteedarts@gmail.com
Distance: 424 meters
In the very heart of town... 120 rooms situated only a few steps away from the famous Place de la Comedie and the Musée Fabre. The Cevennes region and the Camargue nature reserve are within easy reach and Spain is on our door step...
Distance: 374 meters
Non-smoking boutique hotel in heart of the city, 100 meters away from Place de la Comédie, near the SNCF Saint Roch train station, Corum congress center and the Fabre Museum. Warm and refined atmosphere. We welcome you in this charming and quiet haven. Free phone and WIFI, TNTHD and 400 TV channels. In our deluxe rooms : coffee, tea , computer... Breakfast is served in the veranda, opened in summer.
Distance: 196 meters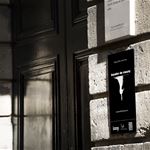 Situated in the historic centre of Languedoc's capital city of Montpellier, this 18th century townhouse combines the comfort of an upmarket guest house with the chic style of a boutique hotel. This exclusive Languedoc residence offers its guests truly unique accommodation in the south of France.