https://www.montpellier-tourisme.fr/geolocation.php
https://www.montpellier-france.com/geolocation/redirect
Haut-Lirou Wine Tour
Domaine Haut-Lirou (direction Le Triadou), 34270 SAINT JEAN DE CUCULLES (
show map
)
Category:
Wine tour, Events
Date: Wednesday 21 feb 2018
- Monday 31 Dec 2018
UNIQUE! Vineyard tours in a 4x4 vehicle of Pic Saint-Loup (with air-conditioned)! The entire Haut Lirou team would like to share their passion with you! Stunning views! Surrounded by nature! Only from €45, book now! The guide speaks English.
Guided tour through the vineyards : Discover the terroir of the Pic Saint-Loup, fauna, flora, geology and fantastic views ; be introduced to grape farming and different grape varieties...

Short walk on foot through the terraced vines... with a surprise !

Private guided tour of the winery :
Visit the estate grounds…from the winemaking cellars to the underground aging cellar.

Tasting of wines from our estate :
Enjoy an introduction to wine tasting and become a wine expert !


INFORMATION:
- Minimum: 2 people (if there is less than 2 people, the discovery trip will ba cancelled. You will be informed 48h before)
- Appointment: from Montpellier, "Place des Martyrs de la Résistance, in front of the "Prefecture" at 2pm ; or directly at the domain at 3pm. you will have to select the appointment when you make the booking.
- Please print the voucher, you will have to present this document before the beginning of the tour.
- Non cancellable, non refundable
- Discovery trip for adult and chil more than 10 years old. Pets not allowed.
Street address 1
Domaine Haut-Lirou
Postal code
34270
City (address)
SAINT JEAN DE CUCULLES
Phone number (booking)
33 467553850
E-mail (Organizer)
info@hautlirouwinetour.com
Distance: 9.4 km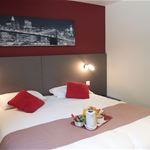 Located in a relaxed environment on the outskirts of Montpellier, the friendly Best Hôtel Euromédecine offers well-equipped, air-conditioned rooms with free Wi-Fi internet access.
Distance: 9.5 km
Located in northern Montpellier, in the heart of the Parc Euromédicine, the hotel is just minutes from the city centre, business centres and shopping districts.
Distance: 2.2 km
A stay at the "l'Ostal du Pic Saint Loup" give you the chance to be in a small old village, close to Montpellier and the Herault valley, in the heart of the vineyards of Coteaux du Languedoc.